Shine like stars: new metallic fashion has already reached tights
Har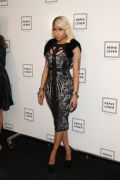 Tights: sexy, cool or reserved?
What is great in metallic colours is that they can be used in very many styles; the common point always is both extravagance and effeminacy. Do not overdo it, with sexy tights choose a solid dress or look at how stars are doing this: For example Nicki Minaj made a cheeky vintage style lace patterned dress crazy with some glittering and consequently giving it an absolute femme fatale character. Her tights are not so emphasized.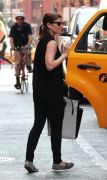 Kate Mara chose simple and comfortable black leggings to New York shopping. These leggings of light material but loose at the top and with pockets are one of the favourites in this season, very feminine and follow nicely leg contours.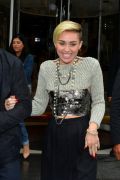 And here comes the rebellious Miley Cyrus who showed that metallic colours can be worn not only on red carpet events: in silver top she met her fans in Paris. She strengthened the cool glamrock line in the metallic trend. 
Wear them like this! Metallic colours and glittering seem to be too much for ordinary days if your steps are not being followed by paparazzi photographers, however, you can wear them with ease on accessories, leggings, tights or bags. It is a must for an elegant occasion nowadays if you want to follow trends but that can make your everyday wear unbelievably exciting and immediately catches eyes. Black tights or leggings are also basic items since glittering is more in the focus with them. It is enough to put on some shiny shoes or choose tights of lurex or with crystal stones to plain ballerinas and the evening is yours!